How we manage the Brexit blues
December, 2018
Whilst the UK political environment remains uncertain, it is important to stay focused on investing and not to speculate. At Tacit our 'Growth/Stabiliser' approach to portfolio construction is specifically designed for testing times like these.
We thought long and hard about our 'Thought' this week. Client communication is especially important through these difficult periods. Access to the internet means most of us spend more time than we should looking for information. Be it online valuations, investment blogs or general sites such as Bloomberg. Much of this content has been developed to feed our hunger for news now rather than at 10 o'clock tonight.
We hope you, our investors, recognise that our priority, first and foremost, is to manage your assets. Investment has many strands but none come higher than a philosophy and strict adherence to a process to plot our way through choppy waters.
Strategically, we continue to monitor the current market dislocation caused by Brexit and the trade angst created by US President Trump with a view to becoming more positive on risk assets. But we're in no rush and intentionally remain patient and wait for signs that current market concerns have gone too far. This may take days or could even be drawn out over the coming months.
Our investment team see valuations looking attractive in certain areas and this is what drives future returns for our investors. Buying assets cheaply is a proven way to generate real positive yields in the future. We're comfortable with the quality of the holdings we have in the portfolios and believe that the underlying 'value' in these holdings is firm. The chart below is an example of how the Brexit debate in the UK has created opportunities not seen since the depths of the financial crisis in 2009.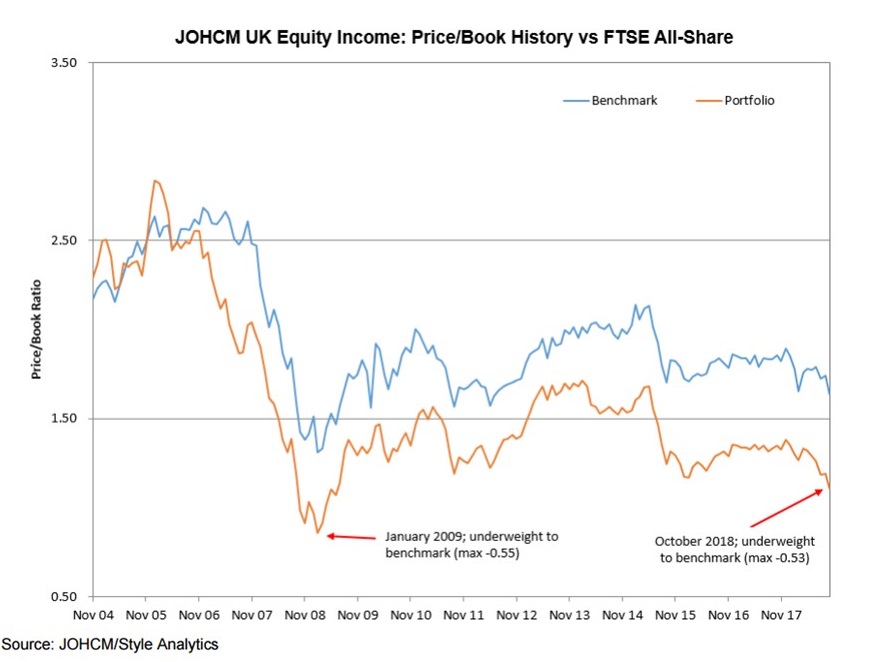 The 'Stabiliser' in strategies – index linked bonds and gold bullion have proven their worth over recent weeks. For those who aren't invested with us this is designed to mitigate volatility. And it delivers a clear focus on the real risks of current political and economic policy rather than synthetic trades that tend to alter at different points. A true 'Stabiliser', and there are few in investment markets, should continue to rise when risk assets fall.
Simple diversification is best at this stage because real assets have a value when political risks are rising around the world.